Harbor Tours Daily
Memorial Day to July 3

(Fri/Sat/Sun)

July 4 to Labor Day


(Mon-Sat)

Labor Day to Columbus Day


(Sat/Sun)

45 minute tours. Departing Preston's dock. Sign up at the dock 30 minutes prior to departure.

$20 adults
$15 (65 an older)
$5 (12 and under)



SPECIAL CHARTER
Available for groups of up to 14 for $300 an hour. Please call for availability and to book your charter.
Glory's "Venetian" Excursion
View Greenport From the Sea, From the Old Shipyards to the Nature Habitats
During the weekdays when there is little boat traffic GLORY can head to the east, past the stone breakwater, and go the distance to the entrance of Gull Pond, The l'il captains love to steer GLORY through the narrow entryway into the expanse of Gull Pond.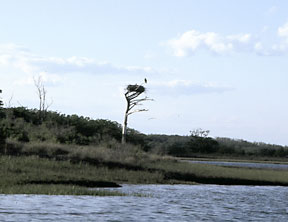 Deep in the pond are two canals that go as far north as the north road. This is what I call the "Venetian Cruise" as the only things missing are the gondolas and the sounds of spoken Italian. Gull Pond is out of the way, and unknown to most, if not all visitors to Greenport. It is a lovely spot to visit. There are at least two osprey nests that are easily seen from the boat. Most years at least one of these nests is occupied by a mating pair of adults.


Did You Know?
Shelter island is around 8,000 acres (32 km˛) in size. However, vast tracts are protected wetlands nature preserve marshland. Nearly one-third of the island is owned by The Nature Conservancy and kept in a forever-wild state. The Preserve has four nature and bird-watching trails, varying in length from 1.5 miles to 11 miles, as well as a barrier-free Braille trail for the visually impaired.
Native born islanders are referred to-by themselves and others- as Hareleggers." This term, far from being pejorative bestows high status. Even though I know the origin of the term if I reveal everything now there will be no surprise when you come aboard.